A conversation about the new book Synagogues: Marvels of Judaism with B'nai B'rith International CEO Dan Mariaschin.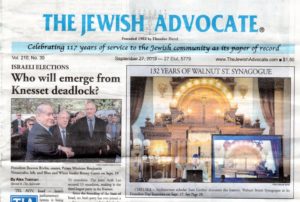 Clingan, Carol, "Walnut St Synagogue celebrates 132 years with Founders' Day," The Jewish Advocate (Boston) (September 27, 2019)
Collins, Kate, "Syracuse landmark seeks recognition on National Register of Historic Places (video), Syracuse.com (May 11, 2016).
Tenorio, Rich. In epic save, Vermont Jews rescue neglected 'Lost Shul Mural', Times of Israel (May 9, 2016)
Ethan de Seife, "Lost Shul Mural Unveiled in Burlington," Seven Days (Aug. 3, 2015).
Gantz, Nesanel, "The Lost Shul Mural: The Restoration of a Lost Shul Mural Bridges Two Worlds in Vermont," Ami Magazine (Feb 19. 2014).
Wecker, Menachem, "It Takes a Vilna: Historic Boston Shul is Seriously Underexposed," The Forward (Feb 14, 2014).
Hollander, Sophia, "Preserve a Synagogue, or Sell It: Uncertain Fate of Old Synagogue Reflects Debate Over What to Save," Wall Street Journal (Feb. 13, 2014).
Bidgood, Jess, "Salvage Drive for Rare Jewish Mural in Vermont," NY Times (Jan. 31, 2014).